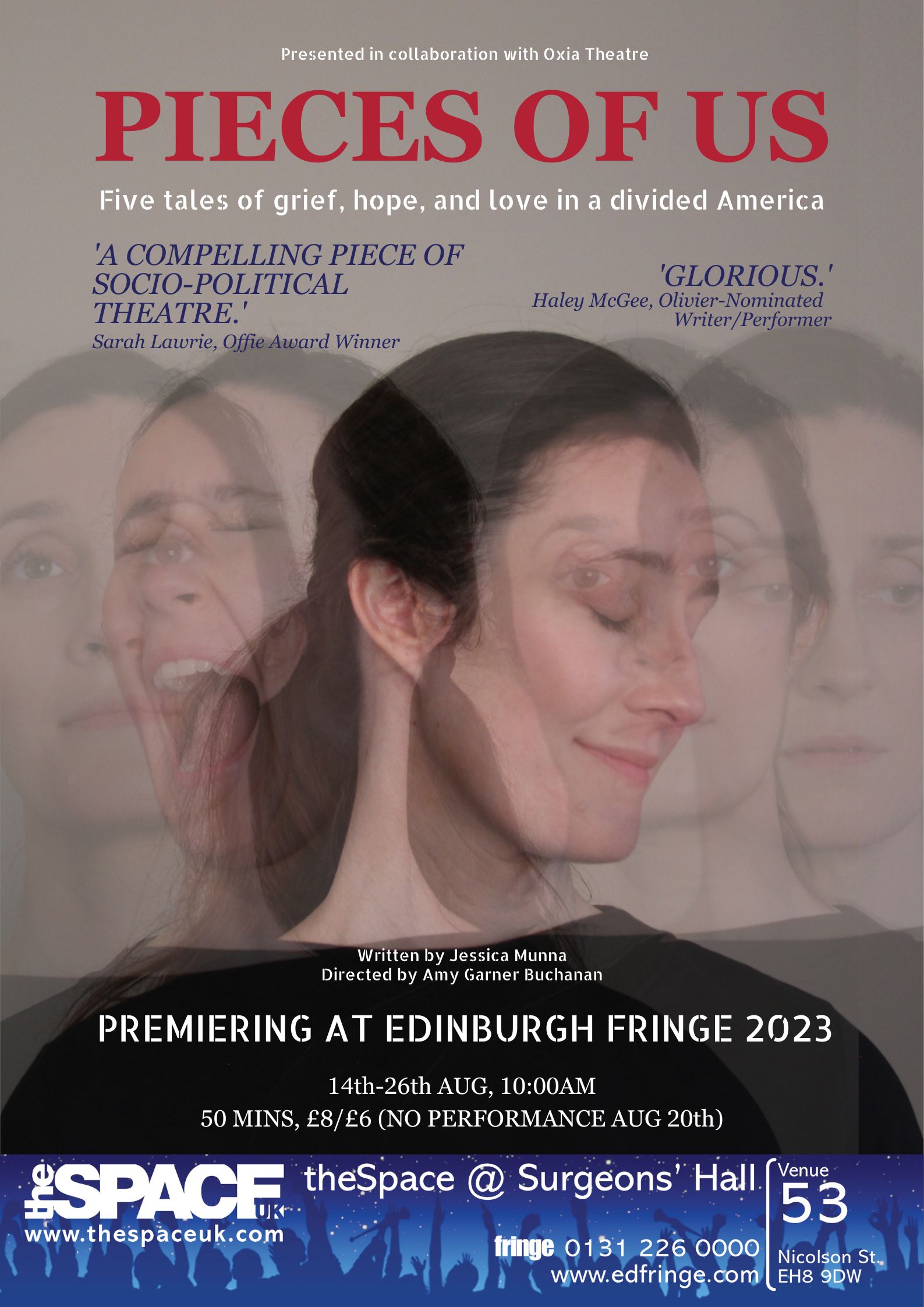 Pieces Of Us is meta-modern verbatim-style show in which an artist interviews 5 of her fellow citizens about grief in the 21st century.
Inspired by documentary interviews with real people, experiences from my own life, along with research of the different experiences in different regions of the USA, this show investigates grief on a societal scale. It investigates individual loss in the context of the history of a place, evolving technologies, the promises of the American Dream in contrast with the lived reality of many, national tragedies such as mass violence or global pandemics and how they are experienced on an individual level, asking the audience to try to find themselves in these many characters.
If you are looking for a thoughtful and heartfelt piece to start your day at the EdFringe, we hope you will consider joining us for this morning-slot show.
"Urgent, important but also light on its feet – Pieces of Us is a deeply vulnerable and compassionate meditation on the way the world is now, how we got here, and what we must do to keep on going. It felt incredible to watch something so conceptually smart be balanced with such deep sincerity and kindness. Fantastic."

-Dan Whitehorn, playwright
"A compelling piece of socio-political theatre."
-Sarah Lawrie, Offie-winning producer, actress, theatremaker
"Jessica shines."
-Winnie Arhin, Artistic Director, The Writer's Corner
This show has existed in some form for a long time.
I did a sharing at the Bread & Roses Theatre Pub as part of a theatre festival in 2019 under a different title, "Colossus."
Through COVID I continued developing the show with the Shrill Writer's Residency. Through this process, I realised I was making two shows. So I pulled out the threads that belonged to "Pieces Of Us" and I shared a WIP of the 5 character monologues at the Rosemary Branch Theatre Pub in April 2021 under its original title "Pieces Of Me."
I showcased individual characters in WIP showcases, one in online performance as part of Winnie Arhin's Writer's Corner and another as part of NDT Broadgate's scratch nights.
An unusual opportunity to take "Pieces Of Us" to the EdFringe gave me a deadline to build an infrastructure for the 5 individual character monologues, to showcase one more WIP at the Golden Goose Theatre to get ready for the EdFringe 2023.
PIECES OF US is our attempt to ask 'tough questions about our own power and participation in creating the world we live in and the way we relate to each other.'

"didn't want it to end!"
"virtuosic acting"
"a totally unique show"
"a captivating whistle-stop tour of American life"